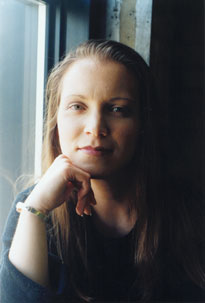 Abigail Garner is a nationally recognized LGBT family rights educator. She is the author of Families Like Mine: Children of Gay Parents Tell It Like It Is published by HarperCollins. The book was named a Finalist for the Lambda Literary Awards.
Abigail has consulted on gay family issues with a variety of organizations, including counseling services, political organizations, and adoption agencies. According to the national newsmagazine, The Advocate, Abigail is among "the frontline soldiers in the fight for gay acceptance." She has been featured on numerous radio talk shows, including National Public Radio's "Talk of the Nation."
"…a vociferous defender of gays and lesbians…an avid organizer."

—Q Monthly
Abigail's commentaries on LGBT families and allies are published throughout the country. Her essay, "Like Father, Like Daughter" was published in the anthology Girls Who Like Boys Who Like Boys (Dutton, 2007). In February 2002, Newsweek published "Don't Protect Me: Give Me Your Respect." The commentary earned her the first place award for Excellence in Journalism (Opinion/Editorial) presented by the National Lesbian and Gay Journalists Association.
"One of the hardest parts of being an advocate for the queer community…is facing hostility from within the community — being told she is not part of the community or that she shouldn't say what she is saying."

—Wellesley Magazine
Abigail twice received the "Best Column" award by the Minnesota Magazine and Publications Association. She also received The Loft's Minnesota Writers Career Initiative Grant, which supported her outreach/marketing plan for Families Like Mine to non-traditional audiences.
For more than five years Abigail was a regular host on KFAI's "Fresh Fruit," and has also been a correspondent for OutQ News, a contributor to "This Way Out" and a commentator on Minnesota Public Radio's "All Things Considered."
Abigail's website FamiliesLikeMine.com receives requests for advice and resources from LGBT families all over the world. From 1995-2001, she coordinated the Twin Cities chapter of COLAGE, an international support and advocacy organization. In Spring 2007 COLAGE published her final article for "Spawn Talk," a column she wrote for several years in Just For Us, COLAGE's publication by and for people with LGBT parents.
Abigail previously served on the board of the Minneapolis/St. Paul chapter of PFLAG (Parents Friends and Families of Lesbians and Gays. At their 2004 conference, Minnesota Rainbow Families presented Abigail with the Community Hero Award for her "courageous and long-standing leadership in building a strong community for LGBT parents and their children."
Abigail is a graduate of the Minneapolis Public Schools and Wellesley College. In 1992 she received the Twin Cities International Citizen Award for her commitment to peace and justice efforts outside of the United States. A long-time resident of Minneapolis, Abigail has been living abroad since 2010.